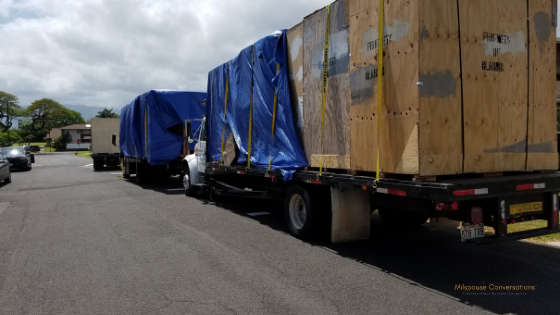 As a military spouse, you may experience several moves throughout your military spouse's career. There are always lots of questions about what to expect and how to navigate a military move. One being, "What are the different options to have my household goods moved?"
It's important to understand what sort of move you're making and the destination. Yes, all of that matters when moving with the military.
In this article, we're going to address what a PCS is and the different options you have to move your household goods.
What Is A PCS
PCS stands for Permanent Change of Station. The military assigns you to a new duty station. As long as it's an accompanied tour, your entire family will go with your active duty military spouse to the next assignment.
Ok, so now you know you're moving. You have orders in hand. What's next?
You must decide if you want to complete the move yourself, have movers come in and move you, or half and half.
Types of Military Moves
There are two-three options for you when it's time to move your household goods. The best decision will come down to your family's wants and needs.
We say two to three because there is a combination option.
What Is A  DITY Move
A DITY or PPM (personally procured move) is when you do it yourself.  Yes. You're doing it ALL. The military isn't helping you not one bit.
Buying moving supplies
Packing your belongings
Renting a truck
Loading
Driving
If you're not packing, loading and driving yourself. You are hiring a company yourself. So basically…..a PPM is all on you, my friend.
The military does reimburse you, but you must ensure you're following all procedures for your branch. You can check out these guidelines for a PPM.
It's important to weigh the pros and cons of if a DITY is right for you.
What Is A HHG Move?
A HHG move is a full household good move that the government handles. The government has contracted specific companies in your area to handle moves.
Once you have orders in hand, you will need to contact your local personal property office to provide information and they will get a moving company scheduled.
The moving company may send a representative out to take a quick assessment of your household goods and then they will handle the rest.
Moving company provides the supplies
Moving company packs your belongs
Moving company loads the truck
Moving company drives the truck
Of course, you will need to ensure you move items that you do not want packed. Trust us. You want to put those items aside and clearly mark…DO NOT PACK. 
Some of these items may be things you want to carry with you.
Important documents
Pets (yes, we've heard horror stories of birds, rabbits, hamsters, etc being packed up)
Work items
Valuable items
Anything you want to load in the car and drive across country with you.
What Is A Partial DITY?
The third option when it comes to military families moving their belongings is the good ole combination of a PPM and full HHG.
Those items that you load in the car and carry across country with you type of things.
PCSing can be stressful, exciting, fun and all things between. Understanding the types of moves and what your service member is entitled will help smooth that transition a bit. And don't hesitate to ask questions.
Here's a quick guide to help you plan and understand your next military moving options.
Join us over at Milspouse Conversations to join in our conversations, ask questions, and meet new military spouses.
Please note: our writers are from all branches. Some acronyms are different across the military branches.